The commonest IELTS exam related query searched on Google is "how to ace the IELTS". The Internet offers a mind-boggling amount of resources and FAQs. It's true that some of them are helpful but most tend to confuse candidates. 
What is it that answers this pressing question? Is there indeed a way to score well at IELTS? Let us go through this article to find out. 
A Break-down of the IELTS Exam Format
Before we move on to the tips of scoring well at IELTS, let us first understand the format. Knowing the pattern of any exam is the first step towards a good score.
IELTS tests you on all four aspects of language skills: Reading, Listening, Speaking and Writing.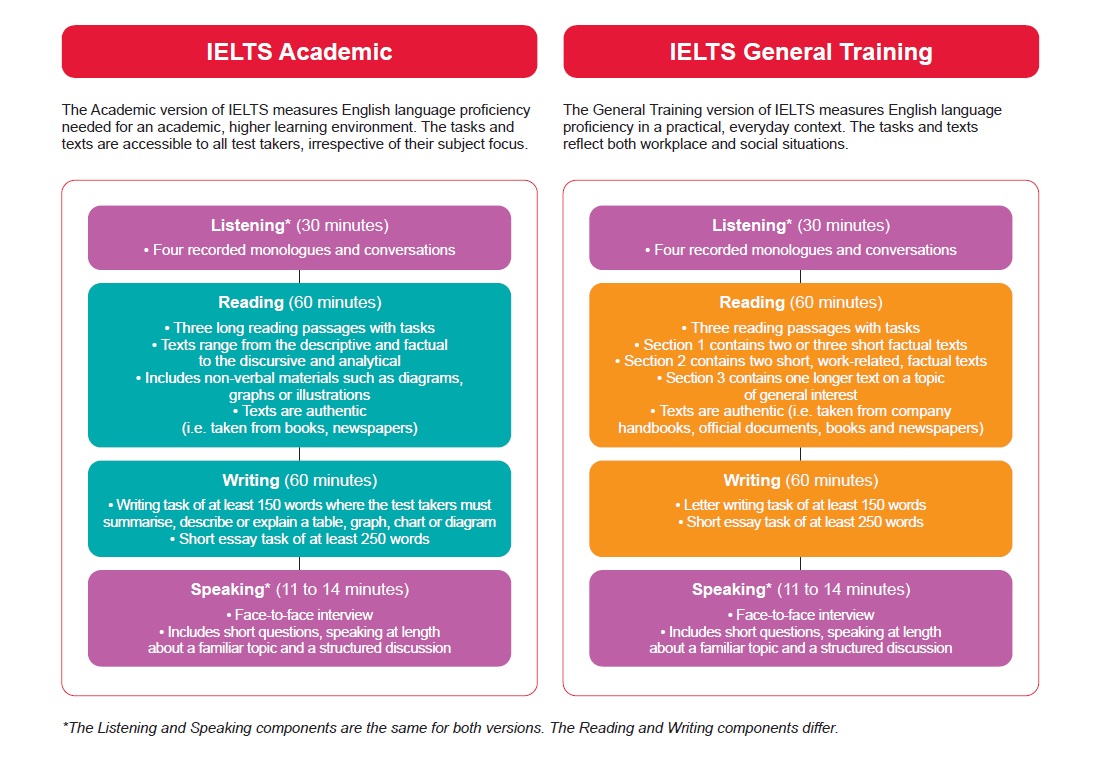 Now that you are familiar with the structure let's move ahead.
Preparation for IELTS course requires a special focus on two areas, time management, and skill development. 
While you practice at home, be sure to time your each and every work. Be it reading comprehension, listening, speaking or writing. Otherwise, it will be very difficult for you to finish the test on time.
It is also necessary to know what skills you should develop in order to do well. Listening and Reading marks you on objective questions but speaking and writing require skills.
Also Read : 5 Best Books for IELTS Preparation you should use
How to Improve IELTS Reading, Writing and Speaking?
IELTS is not an exam of luck. It is a very strategic exam that requires an equally strategic preparation. Let us start with how to ace the Reading section. Here you will be given three reading passages with related tasks.
Read as much as you can. Honestly, there can be no other way to score well in the Reading section without reading a lot! Whoever tells you otherwise, is not your friend.
Stop at difficult words and consult a dictionary. If you have the habit of translating English texts in your own language, ditch it now. Most learners do not understand that this habit slows down your English learning. Always keep a dictionary nearby and don't hesitate to turn to it, if you come across a word you do not understand.
Try to work out the context as you read. An important aspect of comprehension is understanding the context of a text. Keep a track of what is happening in the given text and try to answer questions accordingly.
Tips for IELTS Course Listening Section
For Listening, nothing beats an alert ear. You will be given monologues and conversations to listen carefully to and answer questions based on those audio clips.
Get a headphone. Simply, because it helps you listen to the audio clip without any distractions.
Do not lose your attention because you will get to hear the clip only once.
Do not answer too quickly. Remember, you have to "Listen" perfectly.
Listen to different accents. Australian, British and American accents are different. It is a good idea to familiarise yourself with different native accents.
Transfer your answers accurately. Watch out for silly mistakes because the answers for listening are short. One little mistake will cost you dearly.
Tips for IELTS Course Speaking Section
The Speaking component is of the shortest duration. However, it is one of the challenging parts of the IELTS exam. It has three sections: Structured interview, a short talk, and free interview. You should give a talk for 2 minutes in the brief talk section. After that, you will be given 1 minute to get ready for your discussion. The whole process will take 3 to 4 minutes.
Tips
Practice talking in English for a longer period. Once you are used to talking for longer spans of time, talking for 3 to 4 minutes will not seem a colossal task.
Hear what you speak. Pronunciation is one of the criteria that you will be marked on. Make sure you listen to what you speak and correct any mispronunciation, should you have one.
Think in English. Once you start thinking in English, it becomes easier for you to talk in English. Stop thinking in your native language and then translate it while speaking. It creates lag while speaking. 
Consider getting a personal trainer who can give you regular feedback.
Tips for IELTS Writing Task
The final component of the IELTS exam is writing. It is a 60 minutes task where you have to write two pieces of 150 and 250 words each.
Have a good vocabulary. Successful writing requires an exhaustive vocabulary. Keep a tab of new words that you learn from your reading practices and make sure to use them in your writing
Time yourself whenever you are writing. 60minutes is not a lot of time when you are writing about an unfamiliar topic.
Stick to the word count. Do not write less than the allotted word count. You can write more but do not overdo it!
Task 2 is longer so leave enough time for it. Plenty of candidates do not notice this and end up spending a lot of time on the first task, leaving very less time to finish the second. 
Higher Band Challenges
As you know already, targeting 90% in every exam requires dedicated preparation. Targeting Band-8 or 9 in IELTS is no different as that is the required IELTS score for Canada. You need 2-3 hours of dedicated practise with a mentor to achieve the target. Before you set a desired band score, you must also get all your confusion cleared about the IELTS score calculator.  
Here are the challenges you will face if you are targeting Band 8-9:
Your practices would need daily feedback. 
At least 15-20 essays should be evaluated before you sit for the exam.
At least one mock session of speaking test every day is a must.
Mindless practice won't take you further.
In order to overcome these challenges, you should get help from a personal trainer.
Conclusion
Trying to ace the IELTS is not a herculean task. It is very much achievable. All you need is some strategic approach and an open mind to go forward.
And oh! If you have any awesome tips which we didn't share, let us know by leaving a comment below right now.
Also Read : 14 Powerful IELTS Preparation Tips To Get A Band 8 [The Complete List]