In this article we are going to discuss more about how your score can determine your future which means you will be learning a lot about the value of each band score you get.
We all know that IELTS is the major English examination held all across the world and it is accepted by wide range of universities as well. So this gives a chance to students from different foreign and non-English speaking nations to put forth their talents and join diverse courses in preferred English universities.
What is a Good IELTS SCORE?
Well, if you are trying to aim for higher education or something else then you might have chosen this examination to get selected in universities. And it is truly a remarkable choice but the question you need to ask yourself is – What is a good IELTS score?
The council which organizes the IELTS has laid down different band scores and what they indicate about your proficiency in the English language.
This question should be helpful for students who haven't appeared for the exams yet, because if you understand how the band score works, then it would be possible for you to aim for a higher band.
Please refer to the below list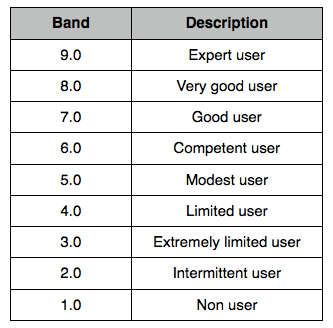 Now that you know what a good IELTS score is, let us get a bit deeper into the scores.
You should know that universities in United States expect IELTS score to be a minimum of 6.5 and no less than that. So, if you want to join in technical or other any course in US, then a score of 6.5 is a must.
At the same time, many universities in Canada accept an overall band score of 6.0 in IELTS for express entry with fewer eligibility requirements.
But at the end of the day a score of 6.0 is required to join some university, but if you score less than that which maybe 5.5 then you might lose the chance to join a foreign English university.
What is the IELTS Score Validity for Canada, Australia and America?
IELTS can be considered as a prestigious examination that paves the path for us to join English universities with the capacity to impact our future.
Now an interesting thing to note is that, the exam has a validity period as well. So every student who is going to attempt the exam must be aware of that. Because, once the validity period is over, students have to take the exam once again, if they have not joined any university or course during the period of validity.
But if they have already joined a course either in the first or second year of validity, then they need not take another IELTS exam till they have finished their education or research properly.
Now when it comes to students, Canada, Australia and US are the favorites when it comes to pursuing higher education. So, I will be listing out the validity for these 3 major countries so that you can plan well.
| | | |
| --- | --- | --- |
| S.NO | Country Name | IELTS Score Validity Period |
| 1 | Canada | 2 Years |
| 2 | Australia | 3 Years |
| 3 | US | 2 Years |
So now that you know what is a good IELTS score and the validity, it is time to start preparing for it. Getting a 6+ score is not as easy as it sounds, but we have developed a sure-shot way to achieving the coveted 8 band. An 8 band means your dreams of going abroad are assured. So what are you waiting for?