One of the most popular essay topics in the IELTS writing task 1 is explaining the line graph. This is a type of essay where you will have to explain the data given in the form of line graphs. This task is particular to the academic writing and the general candidates need not worry about this.
As you must know that the IELTS writing task 1 line graph is the shorter of the two tasks and needs to be written in 150 words at least. It is also necessary that you finish this task in no more than 20 minutes, as the second task is lengthier and as such, requires more time. Let us get into the details of line graph essays.
Skills Tested in IELTS Task 1
In IELTS writing task 1, you will be asked to describe facts or figures presented in one or more graphs, charts or tables on a related topic; or they may be given a diagram of a machine, a device or a process and asked to explain how it works.
Important Points
You must write in an academic or semi-formal/ neutral style and include the most important and the most relevant points in the diagram.
This task assesses your ability to identify the most important and relevant information and trends in a graph, chart, table or diagram, and to give a well-organised overview of it using language accurately in an academic style.
You will also be judged on how appropriately, accurately and relevantly the response fulfils the requirements set out in the task, using the minimum of 150 words.
Further Assessment
You will be assessed on how your response organises and links information, ideas and language with appropriate use of cohesive devices (for example, logical connectors, pronouns and conjunctions) to assist in making the conceptual and referential relationships between and within sentences clear.
You will also be judged on your use of a range of vocabulary and grammatical devices and its accuracy in terms of the specific task.
How to Structure IELTS Writing Task 1 Line Graph Essays?
Structuring a line graph essay is not a big deal. All you need to remember is that you do not need a conclusion here. As this isn't a discursive essay, so conclusions do not serve any purpose. Here is an IELTS sample essay to know how you can structure a line graph essay:
Paragraph 1 (Introduction)
Sentence 1- Paraphrase Question
This paragraph should be one sentence long and demonstrates your ability to paraphrase. You should do this by using synonyms.
Paragraph 2 (Overview)
Sentence 1- Overview of the first main feature
Sentence 2- Overview of the second main feature
Sentence 3- Make general comparison, if appropriate
An overview is a general statement, highlighting the most important information in the table. It should not include any numbers. This is just a summary of the main features. You can use numbers to support your answer in paragraphs 3 and 4.
The examiner is testing your ability to identify the most important information and then summarise it. Important information could include general trends, increase/ decreases, differences, comparisons etc.
Paragraph 3 (Details of significant feature 1)
Sentence 1- Supporting details
Sentence 2- Supporting details
Sentence 3- Supporting details/ comparison details, if appropriate
In this paragraph, you take the first general statement from paragraph 2 and support it with details from the graph. The examiner is looking for your ability to choose the correct data and ability to describe data, trends, comparisons etc.
You then repeat this process for paragraph 4, only this time you describe the second sentence in paragraph 2.
Paragraph 4 (Details of significant feature 2)
Sentence 1- Supporting details
Sentence 2- Supporting details
Sentence 3- Supporting details/ comparison details, if appropriate
There may also be three significant features, in which case you can adjust the structure slightly.
You must remember not to write a conclusion. Conclusions are for opinion or discursive essays and you are not expected to do this in task 1.
Also Read : 9 Practical IELTS Letter Writing Tips: Guide to General & Academic Writing
IELTS Writing Task 1 Line Graph Example Essay Question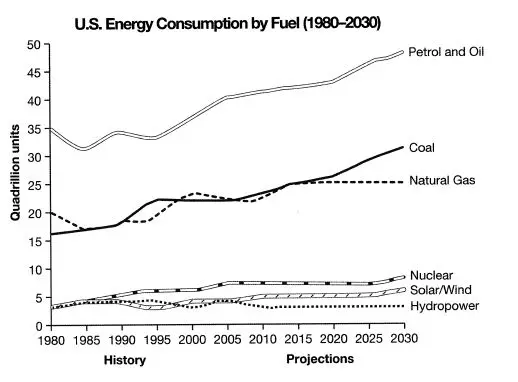 Source: Cambridge English IELTS Past Papers.
The IELTS writing task 1 line graph gives information from a 2008 report about the consumption of energy in the USA since 1980 with projections until 2030.
Summarise the information by selecting and reporting the main features, and making comparisons where relevant.
IELTS Sample Essays Answer
The line graph shows energy consumption by fuel type in the United States from 1980-2008, with projected use until 2030.
Overall, fossil fuels have been the dominant type and will continue this trend into the future. Nuclear and renewable energy sources have represented a small but significant proportion of total energy use and despite small projected gains; it is projected that they will continue doing so.
Main Information
Petrol and Oil commanded the biggest share with 35 quadrillion units (35q) in 1980, rising to approximately 40q in 2008 and this trend is set to continue with a projected value of nearly 50q in 2030. In 1980 natural gas and coal came in second and third, with around 16q and 20q respectively. However, coal overtook natural gas in 1990 and despite some fluctuation, is set to be the second most used fuel in 2030 with just over 30q. It is predicted that natural gas will level off and remain relatively constant at about 25q.
Wrap-up
Nuclear and the renewable energies all represented around 4q in 1980 and fluctuated up until 2008.  It is speculated that nuclear energy will reach 10q by 2030 and solar/wind around 5q, with hydropower dropping and then remaining constant at approximately 2q.
Conclusion
Academic writing task 1 is a writing task which has a defined input and a largely predictable output. It is basically an information-transfer task that relates narrowly to the factual content of an input diagram and not to speculative explanations that lie outside the given data.
You can take help of any good IELTS online training programs for enhancing your skills in this topic. A proper IELTS online preparation will help you with the most important part and that is choosing the correct information. If you know what to put into the essay and have a concrete structure, you are absolutely good to go!
Also Read : Duolingo Test Scores Explained: Comparison with IELTS and TOEFL