"My IELTS NINJA mentor's mentoring was exclusively unique & it brought back the confidence I had lost."
Dr. Shreevidya's Experience with IELTS NINJA
"I consider myself lucky to have joined IELTS NINJA and being assigned, Ms. Jain.A as my mentor. I am greatly honoured to mention her role in achieving my desired score. I was constantly trying to crack IELTS but would fall short in one or the other module, which made me lose my confidence.
But my IELTS NINJA mentor played a tremendous role in guiding and motivating me throughout my journey. She constantly mentioned that I would surely achieve my dream score. Even after my training program with IELTS NINJA, she was extremely selfless to revert to all my queries and difficulties. I thank her and IELTS NINJA for being a milestone marker in my life. "
About Dr. Shreevidya from her mentor, Ms. Jain.A
"Dr. Shreevidya joined IELTS NINJA some time back to improve her IELTS scores. She is a busy professional, running her own hospital set up and due to her busy professional life and family responsibilities, she could not crack the exam in her earlier attempt. But the directions she got from IELTS NINJA really proved a guiding light to help her achieve her dream score and become a success story.
Target Band Score Achieved!
| | |
| --- | --- |
| Listening | 9 |
| Reading | 8.5 |
| Speaking | 7.5 |
| Writing | 7 |
| OVERALL BAND SCORE | 8 |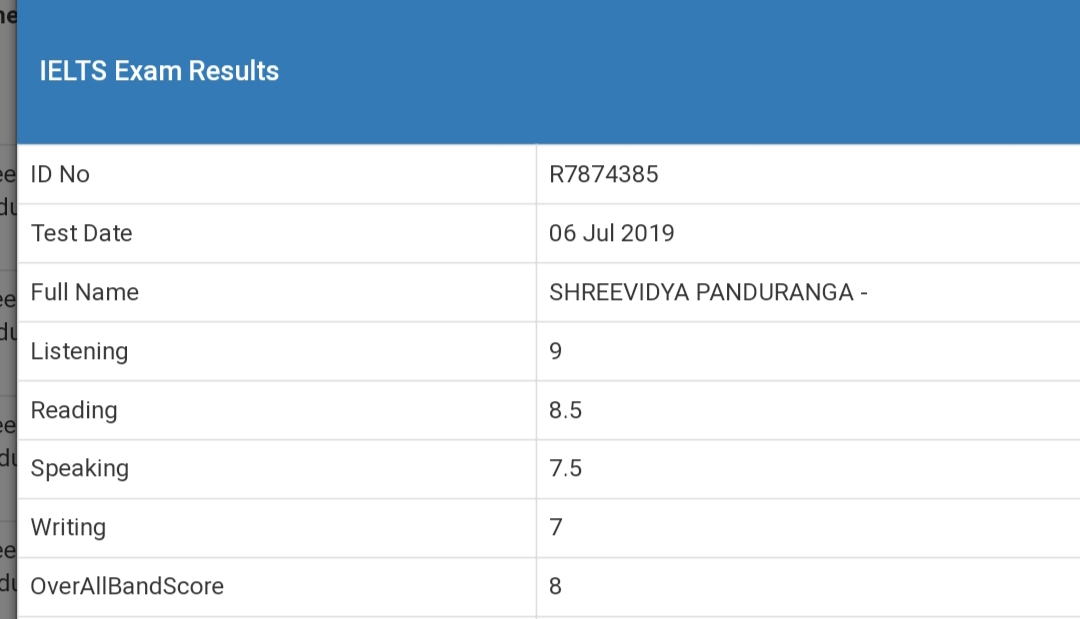 Want to achieve the desired band in IELTS? Schedule a 👉 FREE EVALUATION with one of our Expert Trainers…Today!