"It Was My IELTS NINJA Mentor's Inputs And Evaluation That Has Helped Me Get The Score That I got!
My mentor improved both my strengths and weaknesses so that I do not miss my target score by even a single mark."
Kanika's Experience with IELTS Ninja
Ms. Mitra.P was an amazing mentor to be under. She has immense knowledge about the subject matter and has a lot of inputs to share with her students. She works equally hard along with her students, in evaluating and giving constructive feedback.
There were instances where I got lazy and did not do a few assignments or would not want to do some task assigned, but she made sure that I finish the tasks on time, which at the end was beneficial for me.
She was not only a teacher but also a friend who understood my situation very well. I am overwhelmed with my score and can't thank Ms. Mitra enough for the same. Anyone who gets Ms. Mitra as a mentor cannot get a bad score in IELTS!
About Kanika from her mentor, Ms. MITRA. P.
"Kanika was an amazing and sincere student although she did get lazy in a few instances. She was good with her language skills and the only thing she needed was proper guidance.
She is a wonderful person and a great friend. I was extremely lucky to get such a person as my student. All the best, Kanika"
Breakdown of the Overall Band Score:
| | |
| --- | --- |
| MODULE | BAND SCORE |
| LISTENING | 8.5 |
| READING | 7.5 |
| WRITING | 7.0 |
| SPEAKING | 7.5 |
| OVERALL BAND | 7.5 |
Her result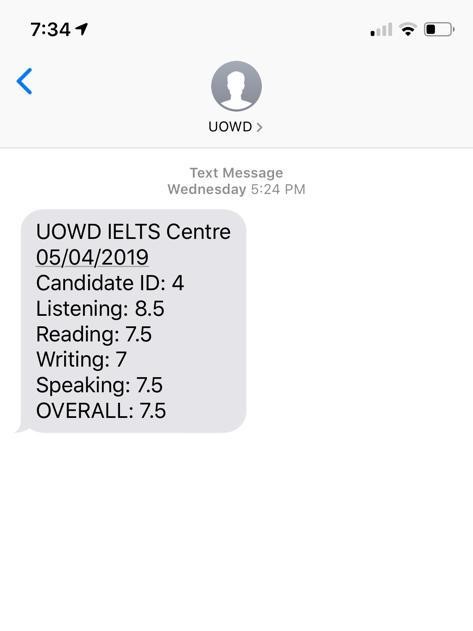 Want to achieve that desired band in IELTS? Schedule a 👉 FREE EVALUATION with one of our Expert Trainers…Today!